Clay Travis: Michael Vick Was a Far Superior Talent than Lamar Jackson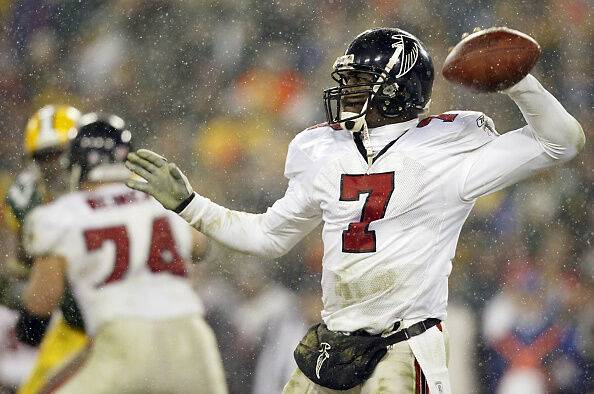 Clay Travis:

"Michael Vick was a vastly superior talent than Lamar Jackson. They didn't build an entire offensive system around Vick, and Vick had a bigger arm, was faster, and was more of an elite playmaker than Lamar Jackson. Vick came into the league at a time where he didn't have a Greg Roman type to build an entire offense specifically designed to his talents. It would be intriguing to see what Vick would be capable of if he was 23-years-old right now and had someone like Roman to work with. Vick was a different caliber of player than Lamar Jackson. Vick came along too early to have the full flourishment of his skills put on display. He was doing everything Jackson has done, within a system that didn't allow him to succeed."

(Full Audio at Bottom of Page)
Listen to Clay Travis explain why he believes former NFL quarterback Michael Vick was a 'vastly superior talent' than Baltimore Ravens second year quarterback Lamar Jackson, who has suddenly vaulted to the top of nearly everyone's MVP ballot.
Jackson and Vick will be closely compared for the rest of Jackson's career as the fastest and most electric athletes the quarterback position has ever produced, but a lot of debate has carried on ever since Jackson was dominating the ACC at Louisville, over who was more talented at the same point of their careers.
Vick was four-time Pro Bowler who at one point was the highest paid player in the NFL. He became the first quarterback to ever finish a season with over 1,000 rushing yards, and became the first visiting quarterback to ever win a road playoff game at Lambeau Field. Even though Vick only threw for over 3,000 yards just once in his career, he was often touted as throwing one of the prettiest spirals of his era.
Even though Jackson is going to far surpass Vick's single-season rushing record this year, as he's on pace for over 1,200 yards to Vick's 1,039, Jackson hasn't been nearly as polished a passer as Vick was, throwing for 300 yards just once during his career and never completing more than 24 passes in a game.
Check out the audio below as Clay details why he thinks Vick was the better talent, and brings up the fact that Vick played in a much more conservative offensive era that wasn't sympathetic towards athletic quarterbacks, and unlike Lamar Jackson, doesn't have a coaching staff who established and practically invented an entire scheme specifically suited to Vick's strengths.

Outkick the Coverage with Clay Travis
Want to know more about Outkick the Coverage with Clay Travis? Check out Premiere Networks!
Read more