Herd Hierarchy: Colin Cowherd Ranks the 10 Best NFL Teams After Week 6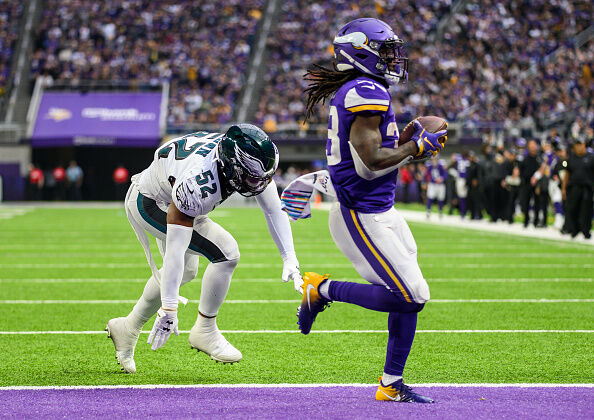 Colin Cowherd Ranks the 10 Best NFL Teams After Week 6 – October 15th.
(Full Video at Bottom of Page)
10. Minnesota Vikings (4-2): "This team is pretty easy to figure out. When they play a good defense Kirk Cousins is 0-2 with QB rating of 73, and when they play a bad defense Kirk Cousins is 4-0 with a QB rating of 135.8. Cousins is limited and when you put a fearsome pass rush and top secondary against him he's not very good. Dalvin Cook by the way is a monster and is being overshadowed by Christian McCaffrey. He's the best or second best running back in this league."
9. Kansas City Chiefs (4-2): "You complained last week when I had them ranked seven, but their defense has given up an average of 38 minutes on the field in the last two games. I like Patrick Mahomes but this is the first time in his career that he's having to overcome stuff like injuries, and he's struggling with it. His last three games he's only completing 56% of his throws. Brady, Wilson, and Rodgers have spent years overcoming injuries and now it's time Mahomes does too. Mahomes has regressed."
8. Buffalo Bills (4-1): "Buffalo does have a ceiling offensively, but they are so good situationally. They've had 14 red zone trips this year and have scored 10 touchdowns. The play-calling for this team is good, and they upgraded their offensive line in the offseason. It's a great defense and a great staff too."
7. Carolina Panthers (4-2): "Kyle Allen has some limitations but this Ron Rivera defense has the most sacks in the NFL and is tied for the second most takeaways. Rivera always gives his quarterbacks a top 10 defense, and now they're drafting very well at wide receiver and running back."
6. Seattle Seahawks (5-1): "Russell Wilson leads the NFL in passer rating, is second in passing touchdowns, second in completion percentage, and has no interceptions. Chris Carson has become a complete workhorse at running back and is second in the league in carries and fifth in yards. Wilson is the most unique quarterback I have ever seen."
5. Green Bay Packers (5-1): "This is not a perfect team but one of the things that Green Bay has done very well with Aaron Rodgers at quarterback, is they draft the offensive line very well and they coach up and develop offensive lineman. Rodgers has only been sacked four times in the last four games, and now Aaron Jones is flourishing. This has allowed more play-action, and on play-action, Aaron has a 103 passer rating and completes 70 percent of his throws."
4. Houston Texas (4-2): "Bill O'Brien got ripped for trading picks for a left tackle [Laremy Tunsil], but Deshaun Watson doesn't get sacked anymore. Houston leads the league in red zone touchdown percentage and third down percentage. What does that mean? Like Russell Wilson, Deshaun just MAKES PLAYS."
3. San Francisco 49ers (5-0): "Best defensive front in the league and they have allowed the second fewest yards per game. They have also allowed the fewest sacks in the league. You're not getting to Jimmy Garoppolo and they're getting to your quarterback. They just beat a desperate Rams team on the road."
2. New Orleans Saints (5-1): "We're talking about Teddy Bridgewater but it's really about line play. They're top ten in the league in sacks and top ten in the league in sacks allowed. Bridgewater is terrific, very coachable, and has essentially become Drew Brees; high completion percentage, high passer rating, and very few picks."
1. New England Patriots (6-0): "Yes, we know they've played the dregs of the NFL but their special teams and defense have been outstanding. Their special teams and defense have scored more touchdowns than they have allowed this season. They've got a ton of secondary and running back depth, and rookie wide receiver N'Keal Harry comes off the IR soon, which will help Julian Edelman, Josh Gordon, and Phillip Dorsett. Usually in September they're at their weakest, but they have the best quarterback in crisis, they lead the league in takeaways, best coach, best special teams, and the running game is back in the fold."

The Herd with Colin Cowherd
Want to know more about The Herd with Colin Cowherd? Get their official bio, social pages & articles on FOX Sports Radio!
Read more