Colin Cowherd: Patrick Mahomes Fails to Overcome Adversity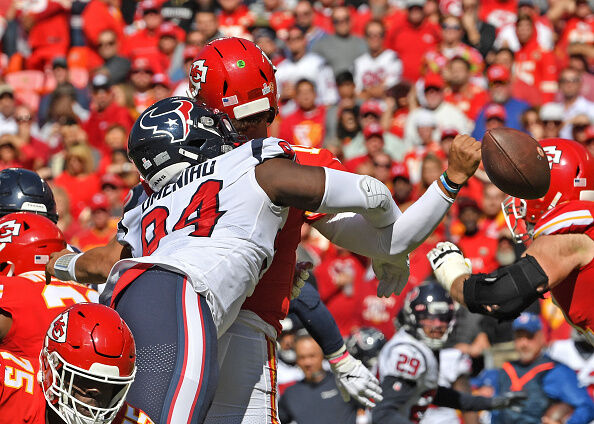 Colin Cowherd:

"We love to anoint people who are 'Great' but what makes 'GREAT' in this league is the ability to overcome –– THAT makes a great quarterback. These are the first bumps that Patrick Mahomes has ever had. There are two quarterbacks who always win no matter what happens, no matter who is hurt, or who retires –– Russell Wilson, Tom Brady, and that's it. Even things haven't gone Aaron Rodgers' way the last two years and we have seen him lose. We've had this love affair with Mahomes but now he's figured out, and he's facing the real NFL now. His offensive line has injuries, Kareem Hunt gets released, and now Tyreek Hill misses games. This is called the NFL. He's an all-time talent but this is the first time he's faced adversity. He basically got handed the keys to a Mercedes and it now has a flat tire, the warranty is up, he got a fender bender on the way home, insurance won't return his call, and now how's it going? Mahomes has never been asked to overcome anything in this league."

(Full Video at Bottom of Page)
Listen to Colin Cowherd explain why he can't put Kansas City Chiefs superstar quarterback Patrick Mahomes in the same category as Tom Brady and Russell Wilson at this point in his career, as Colin doesn't believe Mahomes has proven that he can win at a high level with adverse circumstances around him.
Colin says the NFL has 'figured out' Mahomes and says the reason why the Chiefs have lost two games in a row during the worst stretch of play during Mahomes' career is because the second-year starter is finally facing real adversity; whether it be the suspension of Kareem Hunt, the injury of Tyreek Hill, or the laundry list of other hurt starters Sammy Watkins, Kendall Fuller, Eric Fisher, and Chris Jones.
Check out the video below as Colin details how he thinks Mahomes was given the keys to a Mercedes, playing on one of the league's most talented teams, with the NFL's most gifted offensive mind, but is finally having to deal with flat tires, fender benders, and deceitful insurance companies.

The Herd with Colin Cowherd
Want to know more about The Herd with Colin Cowherd? Get their official bio, social pages & articles on FOX Sports Radio!
Read more