Patrick Mahomes' Injury is Another Gift From the Football Gods to Tom Brady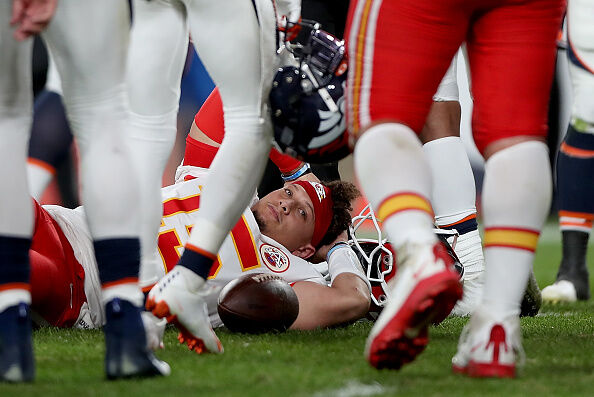 Colin Cowherd:

"Good God, the Football Gods keep giving Tom Brady these little subtle gifts. Andrew Luck retires, Big Ben out for the year, Nick Foles got hurt after a quarter, and cross your fingers for Patrick Mahomes… Literally, Brady's healthy roadblocks to the Super Bowl are Deshaun Watson –– Houston has never won in Foxboro –– and Lamar Jackson –– A KID, who struggles throwing the ball. I would like to see him up so the Patriots have a challenge. Football is better when we don't know who is going to win the games."

(Full Audio at Bottom of Page)
Listen to Colin Cowherd explain why it was hard not to think about the dwindling hierarchy of the AFC as Kansas City Chiefs superstar quarterback Patrick Mahomes lay on the ground at Mile High Stadium on Thursday night with a dire knee injury that will cost him at least three weeks.
The reigning MVP dislocated his right knee cap against the Broncos after running a 4th and 1 quarterback sneak, and doctors were seen popping his kneecap back into place in a disturbing video. An MRI on Friday thankfully revealed no ligament damage for arguably the game's best player, but it obviously put into question his effectiveness for the rest of the season.
Check out the audio below as Colin details why one of the worst years for quarterbacks ever, whether it was Andrew Luck's retirement, Ben Roethlisberger's season-ending elbow injury, Sam Darnold's mono, Drew Brees' thumb, or Nick Foles' shoulder, surely helps the chances of Tom Brady winning another Super Bowl."

The Herd with Colin Cowherd
Want to know more about The Herd with Colin Cowherd? Get their official bio, social pages & articles on FOX Sports Radio!
Read more