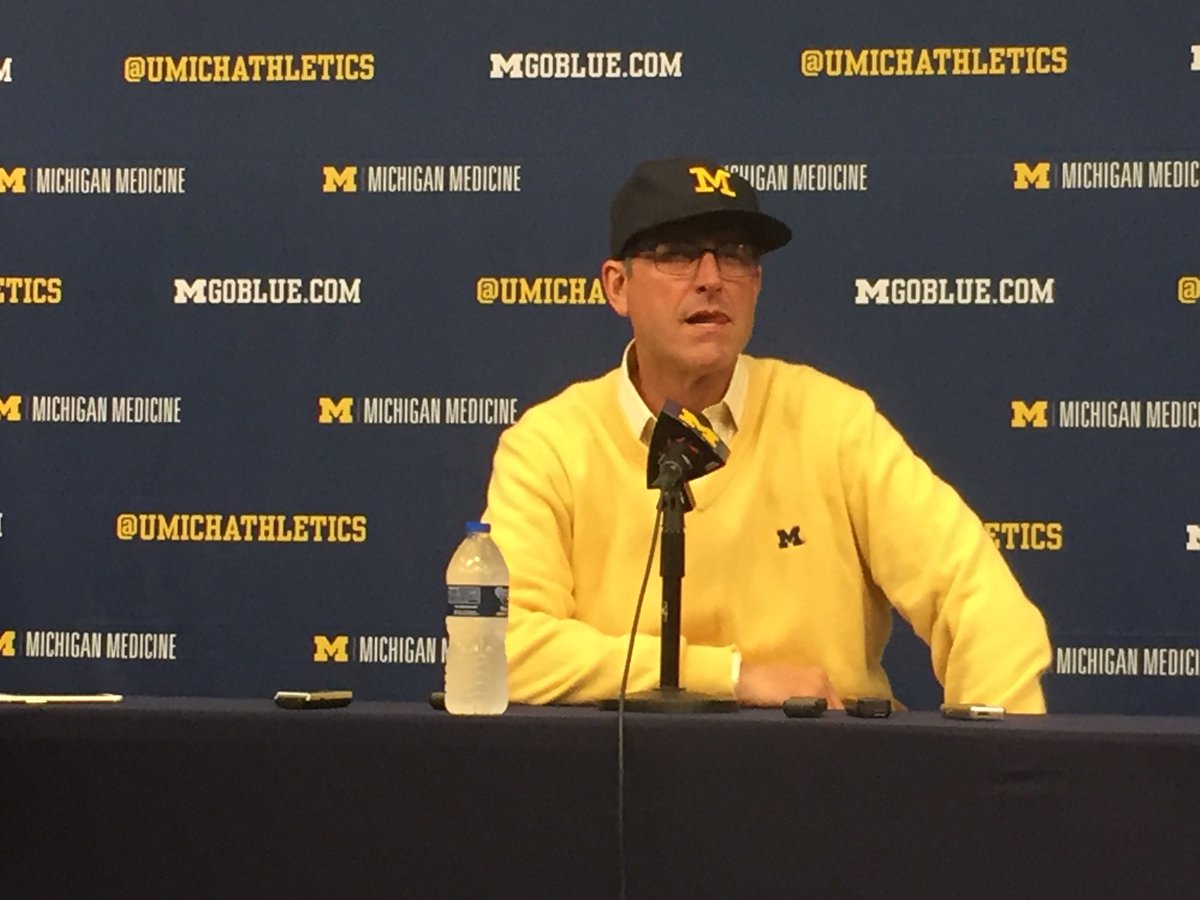 Oftentimes in life, expectations warp the reality of situations and control the narrative. Was the pizza you ate last Saturday night actually the best pizza of your life? Or were you just drunk? Either way, you were overall satisfied with the situation. When you go out to a fancy restaurant and spend a bunch of money, you're more likely to find faults with it if the meal is less than perfect. The same concept applies to today's landscape of College Football; the definition of good and bad is subjective to the expectation of the program. After an embarrassing loss in Columbus to the Ohio State Buckeyes, some fans and analysts are calling for a change in leadership for the Michigan Wolverines football program.
Michigan has lost 16 of the last 18 appearances in "The Game", Ohio State has won the last seven, and Urban Meyer is undefeated against the Maize and Blue. The biggest difference this time is that this was considered a "down year" for the Buckeyes, and the Wolverines #1 ranked defense gave up 62 points. The Wolverines finished the regular season going 8-1 in conference play, 10-2 overall, and had signature wins over Wisconsin, Penn St. and rival Michigan St. Despite all of the pomp and circumstance revolving around the "Revenge Tour", Michigan's season ends with virtually nothing to show for it. This is the third time in four years that Harbaugh has led Michigan to ten-win seasons, and yet Wolverine fans feel cheated, disappointed and embarrassed.
Meanwhile in the wealthy North-shore Chicago suburb of Evanston Illinois, a former All-American linebacker just coached his way to a unanimous B1G coach of the year honors after losing in non-conference play to teams like Duke and Akron. Pat Fitzgerald's Wildcats have an overall record of 8-4 and thanks to the underwhelming B1G West Division, will be meeting the Buckeyes in Indianapolis on Saturday for a chance at the conference title. In his 13 seasons with Northwestern, Fitz has three ten-win seasons and zero conference championships to his name. His overall winning percentage is a slightly above average .579, and he's never made a New Years Six Bowl.
That seems pretty mediocre right? Let's continue.
Another big story this week was the fate of current Purdue Head Coach Jeff Brohm. The Boilermakers had a HISTORIC season. That win over the Buckeyes shocked the nation; put Urban Meyer on the hot seat and it looked like Purdue was a force to be reckoned with. Oh…wait…the Boilermakers ended the regular season at 6-6 for the second straight season. What does a .500 record at Purdue get Jeff Brohm? National exposure and his alma mater, Louisville, begging for him to jump ship (or in this case I guess a train) and come home to the ACC. Hell, someone just threatened to burn down Brohm's old high school after learning he was staying at Purdue; unreal.
So before you tweet next time, I want you to really think about what you want in Ann Arbor. Right now you have an eccentric Head Coach that has gone to the Super Bowl, covered the university with the iconic Jump Man logo, has an overall win percentage of .745, and the only shortcoming is losing to a rival coach that is 81-9 and has a national title at Ohio State.
Do you want to bring back Brady Hoke? Rich Rod? Would you rather have brought in Les Miles to revamp the offense? The Wolverines paid for an expensive meal that isn't perfect. There is much to improve on, like a young offensive coordinator would be ideal. The Wolverines are close to being where they want to be, don't throw it away to be what most other programs are; mediocre pizza.